Noise testing services
M3V is ready with our noise testing equipment to complete OSHA testing side-by-side with the OSHA inspector.
The Occupational Safety and Health Administration's (OSHA's) Noise standard (29 CFR 1910.95) requires employers to have a hearing conservation program in place if workers are exposed to a time-weighted average (TWA) noise level of 85 decibels (dBA) or higher over an 8-hour work shift.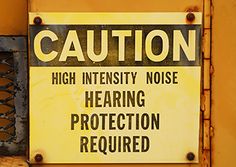 M3V environmental consultants can assist with the OSHA noise testing - 24 hours a day, 7 days a week. M3V can also provide Litigation Support for Noise investigation cases.
M3V can also assist in OSHA Noise Mapping to identify areas where sound is exceeding OSHA noise safe levels. After our noise testing, we suggest feasible administrative or engineering methods that will control noise levels.
Do you know if the noise level at your work place exceeds OSHA safe levels?
OSHA has determined that the upper limit for noise levels is 55 dBA. At this level, speech in a laboratory setting is still intelligible.
If the noise level in the laboratory is too high for the staff to hear what is being said in conversation or on the telephone, there is a danger of misunderstanding instructions or laboratory results. Noise testing results can help employers evaluate improvements in design, engineering controls, and instrumentation that will reduce the noise generated.
Contact M3V for a 10% discount on any noise testing service!
Offer available for the first-time customer only.
Other negative effects of noise on laboratory workers exposure to high levels of noise can lead to:
Hearing loss
Tinnitus (ringing in the ear)
Anxiety
High blood pressure
Gastrointestinal problems, and
Chronic fatigue